Donna Cameron's course of study of the poetics and
at
New York University * Tisch School of the Arts * Department of Open Arts
Since 2003 this course has provided students a chance to participate in
the study of a special timeline of global art, history and politics in the Western portrait genre
through activities which focus on each student's individual poetics and cultural footprint.
The course is written and taught by award-winning multimedia artist, Donna Cameron, a longtime NYU faculty.
P.o.P.
NEWS and Art Gallery
This blog feed has select pics from our recent (5 years) onsite class lectures and P.o.P. journal projects. Scroll down for mask, photography and older (12 years) collage multimedia projects.
Spring 2015 Select Original Student Portraits
Students were asked to create a personal portrait in the style and theme of a Jacob Lawrence picture from his "Migration Series", which we visited at MoMA.
Portrait of My Mom, by Exie Robertson"
My mother, Diana, is depicted here in the style of Jacob Lawrence's "The Migration Series", 1941. I chose to focus my final collage on my mother, who happens to be going through many changes in her life for a woman as established as she is. My mother lost her job last September as a result of agism. She is extremely qualified and was underpaid in her field, and her employer decided to let her go and hire someone younger, who would take the job for less financial compensation. My mother had been going on interviews and having phone calls daily to figure out what her next move will be in her career. She had a closet full of interview suits and spends her days researching prospective institutions and companies she'd like to work for, also reaching out to every contact she has made. When you're a woman over fifty, it seems like finding a job can be a full time job in itself. I placed my mom in a classic black suit and a smart bag because it seems to be her uniform these days. She is standing over a background of dreamy blue water and beach, cut out from an old issue of Travel and Leisure magazine. When mom isn't working to find a job, she is dreaming of our next island getaway when we can just relax and forget a while. The words speak for themselves and relate to what my mother is and what her experience has been in her professional life and in her job search. "Up to 50" "one-of-a-kind" "classic" and "knowing", all relate to my extremely intelligent, fascinating, talented mother, and where her future will bring her.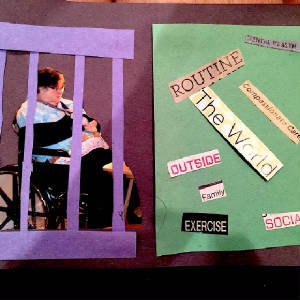 My portrait of my Grandma in the style of "The Migration Series", 1941, by Jacob Lawrence, by Chase Anderson
My final collage dealing with a loved one in tough transition is of my grandmother. My grandmother has gone through much migration in her life. She grew up wealthy on a ranch in Montana, married an Indian man, was disinherited and then deported along with her husband back to India, lived there in a small village for seven years, and then moved back to Montana and divorced. Though she suffers from mental illness, she is always incredibly bubbly and happy and I would liken her to Winnie the Pooh. She is childlike in her simple approach to life. She goes to work as a nurse and comes home, watches Avatar, which is her favorite movie, puts on her gel face mask and goes to bed before 8. The hardest period of migration is occurring within her right now. A couple of months ago in December she fell down at a grocery store and broke both of her arms. In my collage we see her behind bars looking at a bank of words that use to be her life when she was mobile. Now she is in a wheelchair recovering and cannot do most things by herself. She cannot work anymore, she cannot babysit her grandchildren, she cannot drive a car, and she cannot feed herself. She has been forced to retire and watch the routine of her life as she knew it for the last 30 years disappear. Slowly, she is migrating back to wellness!
Olivia Transcending and Adapting, in the style of "The Migration", 1941, by Jacob Lawrence,
by Sienna D'Addario
I decided to create a portrait of my younger sister, Olivia. She is one of my very best friends, and she is going through an amazing time in her life. Over the past few years my sister has been transcending from girl to woman. This transition is specifically important for my sister because she is often treated like a little girl. Olivia is on the autistic spectrum, and because of this, she is often treated as much younger than she actually is. Olivia will be turning eighteen this year, so her transition is becoming vitally important, and necessary. In essence, she is in migration from how the world views her to how she actually deserves to be viewed. I cannot imagine what it must be like to feel and look like a woman, but to be treated like a little girl. Immense frustration at times, and peace at others; however, in this collage I wanted to show her as a full-blown woman. She is decked out with a mod style, triangular dress, in bright color blocked patterns. Her face is done up with red lips, and purple eye lashes to show not only traditional glamour, but also to show her colorful personality. My inspiration for color and layout came from one specific portrait of Jacob Lawrence's "The Migration" series. In particular, his fifty-eighth portrait labeled "In the North the Negro had better educational facilities". While viewing this portrait I was struck by its colors, and shapes. There are three young girls depicted in this portrait. Each young girl is wearing a different color dress of the same shape, and they are all in the process of writing numbers on a chalkboard. My goal was to capture the same background coloring that Lawrence created, as well as bolder colors in the front ground. I was also set on using the same style of dress that appears on each little girl, a sort of triangular dress that a child might draw on a female stick figure. In Lawrence's portrait of Northern migration, the young girls in the classroom have their backs turned to us, and similarly I wanted to convey the sense of voyeurism in my portrait. Olivia is depicted looking off into the distance, perhaps wondering what will come next along her unique journey into womanhood.
While studying Jacob Lawrence's seminal portrait pieces in "The Migration Series" at the Museum of Modern Art, I admired how simple and geometric his portraits are; yet so powerful. The social message Lawrence portrayed in his art was loud and clear to his audience. I try to replicate this style in my collage, which is based on my grandparent's migration from Japan to the United States. The reason that I put a mountain in my collage is because my last name, "Yamaguchi", means the mouth of the mountain. I placed the portrait of my grandparents, dad, and aunt in the middle of the mountain, not only because it represents what my last name means, but because it also shows that my family means a lot to me. I am extremely proud of the accomplishments my family has been through, from struggling to make a living as new American citizens, to acquiring noteworthy jobs such as being a engineer for NASA, a social worker, and a doctor. I hope that one day I can live up to my family's reputation and accomplish as much as they have. I chose to use solid simple colors of grays, white, green, blue, and yellow to make the art simple to read and visually pleasing.
Portrait of my father, a.k.a. panel #21, The Migration Series, 1941 by Jacob Lawrence
by Alex Lee
My purpose in creating this piece was to capture my father's first arrival in the United States to attend the University of Illinois in 1967. I wanted to emulate the color palette of "The Migration Series" so I used earthy tones of browns and greens which I then painted thinly over an image of the campus. In order to make my subject pop more in the foreground, I opted to leave the more vibrant colors as is. I think this reflects the very different tone and feeling of immigration that my father experienced, in contrast those experienced by Lawrence's subjects. By using very deep depth of field, the perspective in Lawrence's panel #21 becomes very powerful and lends a foreboding sense of what is yet to come. I wanted to translate the emigration experience through a more optimistic lens, for my piece to heighten the hope and promise that the US represented for my father. This is further communicated in the pose that I chose for the subject. Whereas the subjects in Lawrence's piece are static and almost hesitant, the subject I chose is in mid-motion and has a certain eagerness to move forward. I feel this combination particularly expresses the subject -- a man in his early 20's embarking on a long journey to complete his PhD-- with the bright hopes and prospects before him waiting to be grasped.
Your Token BLACK Man: A Picture of Stereotype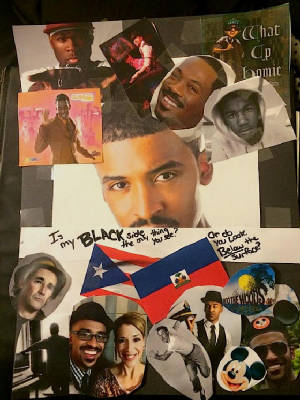 by Dante Jeanfelix
This is a stereotype that I struggle with day in and day out. I am consistently confronted with the thought of whether people view me just as your token black friend or for who I really am. Do people look below the surface to see me as Danté, or do they see me as just a black friend? In my collage I wanted to show the stereotypes of how I am
sometimes viewed, both in public, everyday and even in theatre, where I can become the token black character. Below the line, you see more variety, more color. I show the deeper parts of me. I also show the parts of theatre that are not your stereotypical black characters, but characters that I know I can do because of who I am as a person, not because of whom I might be as your stereotypical black man. I used the background to give the initial jolt of just black- but when you look closer you see many other colors; they represent who I am.
Untitled (a self-stereotype portrait) by Paul A. Richards
"Creating Your Own Stereotype"? Life isn't just black and white. My collage attempts to exemplify how we create our own stereotypes and fight the ones people place on us. I've listed all the qualities I want on the right and all the negative ones on the left. Social media allows for us to craft who we want to be rather than just allow people to project onto us. In my portrait I am half in color and half in black and white. I'm split between those things I fear to be and those things I want to be. I use my social media to craft a stereotype of myself as the strong and confident New York actor who left home to pursue his dream. We create these stereotypes to escape the black and white negative stereotypes. My life is a battle between who I want to be and who I don't.
FALL 2014 at NYU's Grey Art Gallery
Vice-Provost Professor Uli Baer gave us a special talk on the apartheid photography of Ernest Cole!
POLITICS OF PORTRAITURE Spring 2014
Politics of Portraiture is Art and Serendipity! Here, NYU Global student student Nahal Mustafa, in a Politics of Portraiture outdoor session with Professor Cameron, was given a personal talk by one of the Dokdo Racers about the importance of Dokdo Isalnd, and the politics between Korea and Japan over its landscape. Their special mascot, the Korean Bokcheong Lion, performed by happily blending traditional costume and dance into the diverse cutural rhythms of the park. Dokdo Racers hold public cultural performances in major urban centres to share the Korean culture and attract people to the message of global world peace through cultural education and understanding. Performances this year in Washington Square Park by this group of 4 Korean university "Racers" is the Bukchung Lion Dance (북청사자놀이), a style of traditional Korean lion dance originating from Bukchung area in Hamgyong Province performed on the First Full Moon Festival (정월대보름) to cast away evil spirits and pray for world peace and good health.
Matt, Sophia & Michelle
during the Politics of Portraiture wintersession 2014 @ the class lecture on Medieval Portrait Studies at the MET, NY.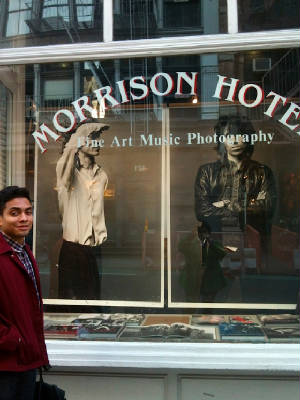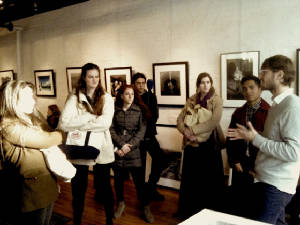 Politics of Portraiture Fall 2013
at Soho's Morrison Hotel Gallery to study portrait photography
of contemporary musicians.
"CHOIR BOY", a portrait of diverse adolescents discovering cross gender issues and politics of human
sexua
lity
, was seen
during
its NYC opening week by
summer 2013
Politics of Portraiture students (from le
ft) Brandon, Lauren, Mary Catherine, Irene and Jelani
.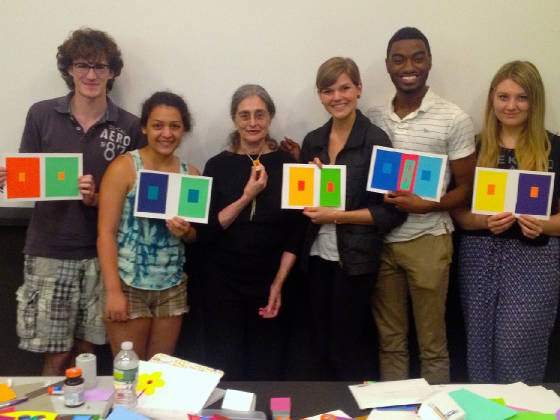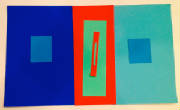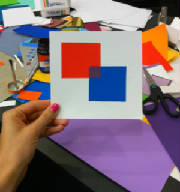 P.o.P. summer 2013, co-lecture about Josef Albers color theory with LIU Senior Arts Professor Cynthia Maris Dantzic.
P.o.P. FALL 2012 @
"TOXIC BEAUTY" ART OF FRANK MOORE @
P.o.P. class of SUMMER 2012 at the TEMPLE OF DENDUR during Donna Cameron's "pharaonic burial statuary and ritual objects as elements of portraiture" lecture.
@ MET, NY's Egyptian Wing.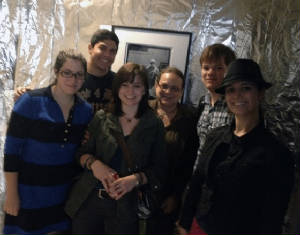 P.o.P. SUMMER 2012 @ an Andy Warhol factory simulation, among the mirror clouds during Donna Cameron's lecture about seeing, moving and interacting with art.
@Gallery 1054's William John Kennedy's Portraits of Andy Warhol & Friends photo show.

MASK PROJECT GALLERY
Portrait of Sophia
Politics of Portraiture 7 Jan. 2014 Mask & Essay
I am budding adulthood upheld by the trappings of my youth. I am confused. I am in limbo between maturity and naiveté. I am Id and Superego. My Trader Joe's face represents good choices. Health-conscious and budget-driven choices. My giant Pixie Stick base makes up most of me. It represents impulsivity. It represents eyes larger than my stomach. It represents childish fancies and no concern for financial burden. Together, these components make up my state of mind. The fact that the Pixie Stick is the large, undeniable base makes this Trader Joe's mask an accurate representation of the mature façade that I present the world.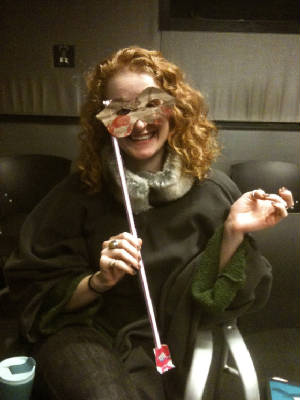 Portrait of Matthew
Politics of Portraiture January 6, 2014 Mask & Essay

I am a computer generated man. I was created for use in films, commercials and television shows. Last year I spent a semester in Italy, away from the digital world. I learned that there were other interesting things in life besides the film industry. I played soccer frequently and traveled to other countries in Europe to watch them play live. Upon my return to the United States in the winter, I snowboarded on the weekends, I continued my digital life, creating motin graphics for various clients. When I'm not snowboarding or being used in the media, I enjoy playing Xbox in my free time.
Robert OhmanPolitics of Portraiture Mask
In The Hero Within, Carol Pearson mentions the idea of God creating man in his own image, meaning he created someone who creates. With this in mind, I made my mask. Composed almost solely of old scraps of negatives, from photography and filmmaking, the mask is a collection of things I've created, things that would not exist in this world had I not been here. On one had, the mask represents me because I love photography and movies. I also love the analog medium of film. On the other had, the mask represents me as a creator, since it's composed mainly of things that I have contributed, to whatever degree of significance, to this world. Another interesting aspect is the idea that I have taken things that I have previously created, and used them in a way that I had never expected to, creating a new and unrelated object entirely. 9/24/13
Julio Saenz MASK
The dark warrior. It's appearance is complex, both comforting and intimidating. It represents the duality of my character. A person who pursues sophistication and strength, but recognizes that internally I am innocent and open. The black color represents wisdom. I was always being told that when I was younger and it has resonated with me 'til now. I chose the red because I would associate myself with a romantic style of thinking. Whether it comes from my Hispanic background or the way I was raised, I have always been conscious of my outlook of life. It comes from to bottom of the mask and not the the top to represent growth. There is a x on in the middle of the forehead. The x represents a crossroads, which I believe I am in right now. The crossroad of childhood to adulthood. Of dependence to independence. I chose blue because it has a symbolic connection to pure qualities. It also is the color of water which can be in all states of matter and is something that I aspire to be able to do. Smooth as Water, Stern as Ice and free flowing as mist/air. Inside of the mask is white. It represents a blank slate, innocence and simplicity. Internally I want to find peace and tranquility and I recognize that it is within me. 9/24/13

SCULPTURE GALLERY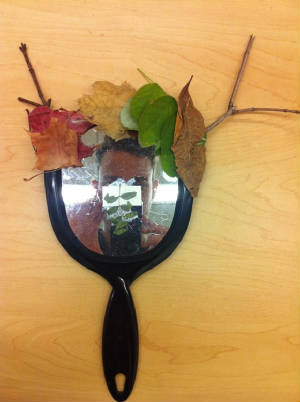 "SELF-PORTRAITS AS ALTRUIST AND INNOCENT, INSPIRED BY A MIDSUMMER NIGHT DREAM".
Mixed Re-Purposed Objects.
-CHARLIE KOLARICH, P.o.P. FALL 2011

NEW MEDIA GALLERY
A BLOG CAN UNITE A FAMILY. Claudia Carballo began this project as a family portrait in PoP, Spring 2005 and completed it as her masters thesis, 2008, in cooperation with the Gallatin School, NYU.
LINK to "Follow Me, NYC" by Seth Brau, Spring '07

PHOTOGRAPHY GALLERY
"Stereotype Me" -Anna Nguyen, Spring, 2012
"Hey mister, where you headed? Are you in a hurry? Need a lift to happy hour.
Say oh no. Do you brake for distilled spirits? I need a break as well...Troubled times, you know I can not lie. I'm off the wagon and I'm hitchin' a ride." -Kaylee Byrd, Spring, 2009
"Self Wanderer" -Anthony DiGiacomo, Spring, 2012
"This is a photo from our Passover Seder.
My father is reading while I do an impression of the character described.
It represents a still photo (portrait) from a very theatrical "real life" event."
-Jake Benjamin Levy, Spring, 2009

"This is Mason, the 2-year-old I have been babysitting for a year.
This portrait captures the carefree exuberance only a toddler has,
which will fade and fade with each passing year of his life." -Ash Fisher, Spring, 2009
"Few things can come between this man and his guitar, even the girl who inspires his songs.
It's a daily reminder of his past and a path towards his future.
No portrait of him is complete without it."
-Karina I. Gonzalez, Spring, 2009

"This is my next door neighbor. His name is Ed. He is not a drag queen, but a fireman. He asked me to dress him up like a woman so he could go to a leather party with a college girl. He has two kids, an ex-wife, and a golden retriever. He drives an awfully big truck." -Samy Burch, Spring, 2009

PAINTING & DRAWING GALLERY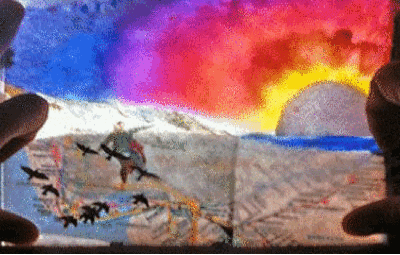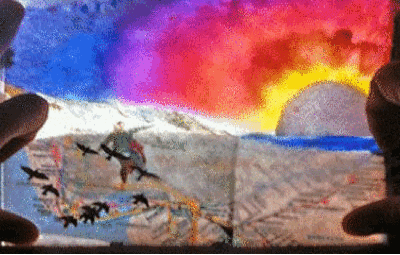 A Path Within
-Adrienne Cahill
, Spring, 2011
"This painting is based off of a polaroid of my mother when she was just about my age.
Sunset, beauty, youth, and the polaroid itself all allude to time and brevity.
My mother is just as beautiful today, and possess a youthful spirit I hope to hold onto myself."
-Jenna Wexler, Spring, 2009
"This is a portrait of my mother. She stashes legal pads with her innermost thoughts all over our house, especially the laundry room, since my father left." - B.M., Spring, 2009

COLLAGE GALLERY
"Girl with a The Girl Viewpoint" -Tristan Viner-Brown, Spring, 2012
"Portrait of Anonymous in Vogue" -Charlie Kolarich, Fall 2011
"I only call her by her full name.
She speaks without words and could swear
there are dinosaurs on her street
(which are really just heavy machinery).
She is my sense of humor, especially
when we yell at teenagers from my car."
-Brad Giovanine, Spring, 2009

WORD GALLERY
Red Lights Are A Gift When I'm With You
Red lights are a gift when I'm with you.
A delightful pause on the corner of the street to rest my feet and greet your lips with mine.
"Don't walk," it says, and I don't plan to.
I just plan to stand with this man who
Knows each pore, each hair, and more,
My beautiful breasts, my ugly toes, my scattered scars
So fuck the cars--

No.
Thank you, vans and Volkswagen bugs
For causing our pausing on the corner for hugs.
For making me late for the class where I'll pass the time
Writing and dreaming up poems like this
About the red lights that allow us to kiss.
Red lights are a gift when I'm with you.
-Mariel Blatt, Portrait of a Loved One, Poem, P.o.P. Spring 2011
From the Fireside
Sometimes
I'd steer us down and back,
We'd speed on lake
Travel west on north
Perhaps
We'd travel (in silence)-
Examining billboards,
the sails on the avenues,
pondering our fate.
Sometimes
We would be home:
A building much too large for us
A neighborhood we didn't belong.
"It doesn't look like much…"
we'd explain.
"You should see it later tonight."
But this is where we'd live.
We'd take a seat
Among the sweat,
The dirt and grime
that ten years of loud guitars
could bring.
We'd sit and smoke,
And examine the damage
that ten years of beer
ten years of cigarettes,
tattoos and boots
could bring.

These were pins you could not lose-
Nights unforgotten.
And now I sit and smoke…
and stare and think
that those two years
were
the best that life
could bring
- Mike Barron, Poem, Portrait of a best friend from Chicago, P.o.P. Spring 2009.

SOUND GALLERY
"ApeAudio" by Corey Ulrich, Fall'09
"Pet's Music" by Evan Katz, Fall'09

FILM & VIDEO GALLERY
LINK to "Circle of Man" by John Pierson, Spring, 2010
LINK to "Land Portrait" by John Pierson, Spring 2010