Friday, August 21, 2009
First Video Ad in Print--magazine print, on paper! it's coming this fall!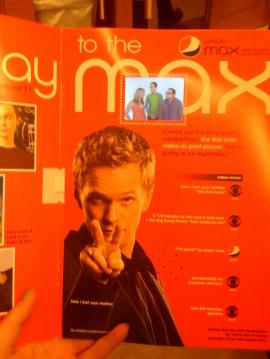 Link to CNET story about first video in print.
"The September 18 issue of Entertainment Weekly will feature the first video ad to appear in print:"Each ad can handle about 40 minutes of video. Here are some more details about the Americhip technology: the screen, which is 2.7 millimeters thick, has a 320x240 resolution. The battery lasts for about 65 to 70 minutes, and can be recharged, believe it or not, with a mini USB cord--there's a jack on the back of it."

4:21 am edt | link
Thursday, August 20, 2009
YES, YOU are seen by the INTERNET! PERSONAS!
SPORTS? DRAMA? PARTIES?
HEY Click on this→

It's a COOL new MIT program to give you a new way to see yourself--like the Internet does. And, it's free! Hack OUT your self-esteem. You may only surface as a part of your own nomen clump, but hey- The Cyber Void loves you!
1:18 pm edt | link